We've been waiting very long for a winner and there's one man who will get us there....(after the jump)
JASOOOON COLLLLINNNNSSSSSSS!!!!!!
You want a guy who actually went to the NBA finals??  Twice???



EXPERIENCE!!
You want a sweet shooting big man??


TEXTBOOK!!
How about hustle and desire??


COLLINS DOIN WORK!!
A man who can grow a playoff fro?


GLORIOUS!!!!
Walsh, just listen to us once ok?  Collins.  Sign and trade for the lesser Collins.  Who needs the Brooks twins when we have the original Stanford twins??  Point.  Set.  Match.  Game.  Finals.  Trophy.  Celebration!!!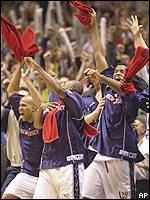 ***FYI, I made this post in the same amount of minutes my man Jason played per game this year...INFINITY.
Highlight Montage!