I have noticed an increase in the number of comments recently on articles and fanposts. So I figured I would make a thread specially for talking about the draft. The draft in any sport is one of my favorite times of the year. It offers you new hope. This year there are going to be a bunch of good options for us with the 17th overall pick. Clearly the Knicks will have their options and could decide to go in a bunch of different ways.
My guy at 17 is Josh Selby. Last year this was a player that was rated higher than the possible #1 pick Kyrie Irving. Selby has top 10 talent, maybe higher in my eyes. He had a down season at Kansas and never really got into his groove out there. He is going to fall this draft and I am shocked at the amount of respect he is getting. Selby would be a perfect fit for the Knicks in my opinion. It is also a best available player type pick for the people who want to look at it that way also. 
We could groom Selby for a year under Chauncey Billups and Selby could be the future at the point guard position. Many draft sites have come out and said Selby is not a point guard, but a shooting guard in a point guards body. I tend to disagree with this because I think if you coach him at the point, than he will develop into a point guard. He has all the skills to have major success at the point guard position.
We could also just put Selby at shooting guard if we feel his skills do not translate well to the point guard position. Now I love Landry Fields like many on here, but Selby offers the scoring touch we lack from Landry, especially down the stretch last year. If we had Selby on the court at shooting guard with STAT and Melo, that would be a pretty sick lineup.
Selby offers great upside with the 17th overall pick. Yes it may be a risk but it is a risk I am willing to make. I really like Charles Jenkins, Reggie Jackson and Darius Morris at the point for us as well. This goes to show you the Knicks will have great options when it comes to grabbing a point guard, if they choose to go that route. When Donnie Walsh selected Jordan Hill and passed on 5-6 point guards who could be the future for us at the position, I was pretty pissed off. I say we should go out and grab a point this year.
Below I wanted to discuss a few players that have really grown on me recently. After that feel free to comment below on the draft and prospects. We need a thread to discuss the draft and the prospects, now we have one.
Donatas Motiejunas is great international prospect who is from Lithuania and is playing in the Italian league. He is a big guy that can shoot, which I really like. He is 7'0 and 220 pounds. Now I have seen comparisons from Pau Gasol to Andrea Bargnani. He also resembles our former favorite Danillo Gallinari. We all know Walsh and D'Antoni love their international prospects, so I would not rule out Donatas if he is there at 17. He could develop into a great player for the Knicks, but I do not know if they are willing to wait. Sometimes you need to pass on need for talent, and that may be the case here. Donatas is a big time NBA talent who could develop into a Dirk Nowitzki type player.
I really think this is a player that is going to develop into a good player. He runs the floor great for a guy his size and he is an aggressive scorer. He also has a great jump shot and is only going to get better and better as a shooter. We could use Donatas in the offense like the Mavs use Dirk. I am not saying this kid is Dirk or Gasol right now, but in a few years he could end up as the steal of the 2011 NBA Draft. At only 20 years old, he has a ton of potential and his frame will fill out. He has really grown on me the past few weeks and I would love to get this guy, regardless of the need at point guard.
If you watch a lot of the Big East like I do, than you should know about Marshon Brooks from Providence. He is a big guard at 6'5 and 195 pounds. He also has a 7 foot wingspan so I think he could use that in becoming a great defensive player as well. He was averaging around 14 points per game his Junior season, but made the jump to 24 a game in his Senior season. He is going to be a really good scorer in the NBA. His game actually reminds me of Kobe Bryant's, but thats a huge comparison. So lets tone it down a bit and say he is similar to Nick Young, and that is not a bad comparison at all. Marshon can really light it up, he just needs to improve his 3 point shooting. That is my only negative comment about him. Besides that he is a great offensive player.
He is also a very productive rebounder for a shooting guard. He averaged over 7 rebounds per game in his Senior season. He has a 7 foot wingspan like I mentioned earlier and I think that translates to helping in becoming a good defensive player. If he can improve on the defensive end, he may be another big time steal in the 2011 NBA Draft. He is already a polished scorer and rebounder, so if he can improve his defensive game he will be a very rounded player. If he is there at 17, he may be a great pick for the Knicks.
Kentucky is one of my favorite college basketball teams out there. I payed close attention to their tournament run and I tell you what Josh Harrellson was a big time piece of that run. We all know the Knicks need a big man and there really may not be a big available at 17. Faried is the only option I can really think of, but he could be gone by 17. So I am starting to look at guys we can get later in the draft. Now the Knicks would have to acquire a 2nd round pick but that should be attainable.
Harrellson is a center that is 6'10 and 275 pounds. He has the type of big body we are looking for and is physical in the paint. He is an excellent rebounder and we could use a guy like that down low. He plays at a high level and is wired every game. I think he would be a great fit because of his energy and rebounding. He really does not have a offensive game, but he can score with some low post moves. But lets be real here, we are not looking for a scorer in a big man. We are looking for a guy who can rebound and do all the dirty stuff down low. If he can contribute 8-10 points a game thats fine, and I think Harrellson can do that in the NBA.
I am not saying Josh Harrellson is a big time player, he is far from a superstar. But he is the type of player we need down low. I really believe he would be a great pick in the 2nd round. If he goes undrafted than we should make it a priority to sign him. He could develop into a pretty good center in the NBA. If Spencer Hawes and Kevin Love can develop, than maybe Harrellson can.
Justin Harper F Richmond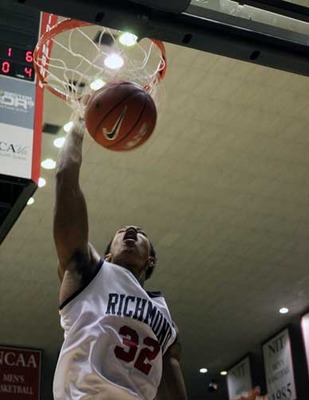 This guy seems to be getting a lot of buzz right now and the draft is inching closer. Now I am not sure he is a guy we would take at 17, but he does look like a player we would look to acquire another pick for. When you look at his numbers they are pretty impressive. He was one of the most efficient scorers in the nation and drastically improved his game ever year in college. His numbers put him right there with top 5 pick Derrick Williams. DraftExpress has a great profile on him for those that want to learn more about him or any prospect in the draft.
Now I have seen comparisons from Channing Frye to Kevin Durant. In the DraftExpress review of him there is a mention of the Durant similarities. At 6'9 228 he has the frame to develop into that type of player. I do not think Harper is a big we are looking for, but if we are thinking of taking one of the Morris twins or any other tweener type player than Harper should receive consideration as well.
I remember him from the tournament games because Richmond was a sleeper every year. Outside of that I cannot say I have caught too many Richmond Spider games, but they have an awesome logo. I did some homework on him this morning and I must say I came away impressed. He is a great shooter and is explosive on the floor. Alan Hahn tweeted (on the front page) that the Knicks worked him out again, so there must be some interest in him. Keep an eye on this kid because he may be a real sleeper this draft.
Please feel free to discuss in the comments section below. This is a thread for the 2011 NBA Draft and the Knicks so go at it. We need a thread for draft discussion and I am glad to bring it to you.