http://espn.go.com/espn/commentary/story/_/page/jackson-120131/a-new-york-knicks-fan-very-trying-times
Found this article by Scoop Jackson to be interesting for several reasons, one of which is that it raises the idea that Dolan may be underspending. I thought that we were constricted by the new CBA and didn't have the cap space to pay more. But Dolan HAS let many players slip through his fingers (Corey Brewer for nothing), and one wonders what this team could look like if we had some of those players rather than our current role players. I've seen some of the Clippers games and I've been impressed with what Chauncey is doing, shame it's not for the team he intended to be doing it for - the team that so desperately needs a PG.
I'm positive about the future, though. If Carmelo Anthony learns to keep passing like the past couple games, and we add one of the ex-Nuggets or Landry keeps his numbers up, I think we really could have championship-caliber offense and defense. I do think we're short of a solid bench scorer though; a Jason Terry type who can walk off the bench into a game we're losing and drill a 3 in Miami or Chicago to stop a run. If we can get K-Mart or J.R. Smith (paging Metta World Piece's therapist) maybe that would work. Anyway here's the quote and link to article:
"It all boils down to the Murphy's Law of money: What can go wrong when a team decides to go out on the cheap, will go wrong. The front office will call it "freeing up money to clear cap space," but the reality is that the Chauncey Billups Amnesty Plan has backfired. The Knicks chose not to pay Billups -- the most important spoke in the Viscera -- the $14.2 million he was owed and instead are trying to get five other players (Mike Bibby, Jeremy Lin, Toney Douglas, Iman Shumpert and Baron Davis) to do what he did for a little more than $5M.
Cheap.
[+] Enlarge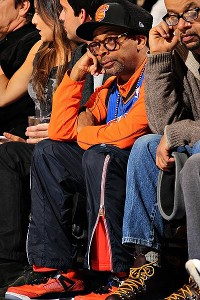 Nathaniel S. Butler/Getty ImagesHow does Spike Lee do it? (At this particular moment during a Jan. 20 loss to the
Bucks
, not very happily.)
The justification they tried to sell to fans: We used the leftover money to acquire Tyson Chandler to stabilize the front line and do for us what he did for the Dallas Mavericks. Which was win a championship.
This, coming from an organization that paid Larry Brown more than $18M five years ago not to be the team's coach."