Editor's Note: In lieu of a weepy, bedraggled recap on my part, our very own "latrell" was at tonight's game. Read on for a superb recap of the loss that was. Enjoy.
"Just knowing his character, he's a fugazy guy." - Tim Thomas on Kenyon Martin, 2004
This brilliant quote underscores my main theme of the night. In going to my first game at the Izod Center, I found out the truth that us Knicks fans already knew. The Nets won tonight, and the Nets are probably the better team right now, but they will always be the fugazy franchise of the tri-state area.
General Impressions
- Fan representation at the Izod Center, 3/8/09: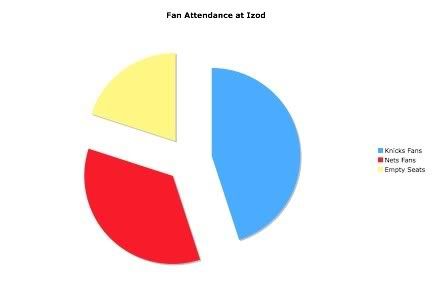 That's 45% Knicks, 35% Nets, and 20% nobody for you scoring at home. Terrible representation by NJ fans. It's not even like that 35% consisted of good fans, either. As far as I could tell, the home crowd only cheered for dunks and nothing else. All of the pro-Nets "noise" you might have heard was pumped in through the PA system. When that was off, the crowd was dead silent on the NJ end. Very depressing. I expect this team to be playing in another city (not Brooklyn, more like Kansas City) by 2019.
On the other hand, the Knicks had a solid turnout. Highlight: the three gentlemen a few rows behind me screaming "We want COX!" anytime Chris Wilcox got involved in the game. Not that there's anything wrong with that.
- My tickets were baller status, so I got to visit the MGM Grand Lounge. Except that, you know, it's the Nets. The "lounge" was a few hundred square feet of their basement with some black sheets around it, right next to the Zamboni for the hockey games. Also, they served terribly undercooked Chinese food, because. . .
-. . .tonight was "An Evening of Chinese Culture" at the Izod! Incredible! All I found out was that Yi Jianlian's favorite food is "Chinese food" (verbatim quote). They also let a Chinese PA guy run the player intros. Larry Hughes' face was one of total confusion. Priceless.
- Last note on pre-game is about a new P&T fave, Cheick "Ya self before ya wreck ya self" Samb. Listen: dude's not getting minutes. Ever. No 7 footer should lazily jack up threes in shoot around and get toyed with by Nate.
The game, First Half
- Knicks brick about 5 free throws in the first 5 minutes. This is because some old Woody Allen look-alike right behind the basket was giving the Knicks the devil horns with his hands and exclaiming, "You're gonna MISS!" I think Al and Nate even had a conversation about it between Al's attempts. The one good Nets fan probably cost us the game.
- Please be advised: Devin Harris is legit. The guy can penetrate and finish at will, knock down the open jumper, and can run an offense. Dude drops 35 and 10 tonight, and I don't know if there's five guys in the NBA who can stop him. Lebron's gonna be great in 2010, but we still desperately need a shot blocker in the middle to help contain the Devin Harrises (Harri?) of the world.
- Turns out that Larry Hughes has a weakness as a defender. He can't play against bigger guards, and VC exploited this by just posting him up.
- Hidden note of the early game: Yi was going to kill us, except that the refs were terrible as usual and had him on the bench two minutes into the first. Must be all of that sweet n' sour chicken from tonight, because he had the eye of the tiger. Or the panda, because he's soft on D.
- Nate kept us in the game early with some timely shots, but I couldn't help but think that he should really be more Iverson than Boykins by now. He's settling for the jumper too much when he can get to the rim. I want more Iverson from him.
- I saw Gallo try to play defense tonight. It was not pretty. He needs a lot of work and I don't know where he's gonna learn to play some D. There's a reason he got switched onto Trenton Hassell for most of the game, and it's not because Italians know how to lock down Austin Peay alums.
- Knicks up by a few at the half. No real rhythm to this game until a sick Sean "Afroman" Williams sequence where he finished a Harris oop and then got two consecutive blocks. He was going to block another one, but then he got high. My point is that the pace picked up after that. My cheap shot is that Williams likes the reefer.
The Game, Second Half
- I talked about Gallo being switched on Hassell, but credit D'Antoni and the staff for making some real defensive adjustments at the half. They started cross-matching Hughes on Harris, Chandler on Carter, and Duhon on whatever stiff the Nets chose to play at SF. Good looks, coach. Too bad this all got shot to hell with the second unit, because these guys actually kept Harris under control.
- Speaking of defense, Nate got burnt no less than three times on backdoor cuts. I'm pretty sure this is why D'Antoni had him riding the bench, but maybe Nate had a Call of Duty session later tonight and had to save his energy. Either way, it's understandable.
- My next point, entitled "Guys on the Knicks who only have one move!" This features David Lee (get the ball on the block or the free throw line extended, ball fake, charge to the rim) and Danilo Gallinari (shot fake, one dribble left, jump shot). One of these guys needs a post move or a cross over.
- This Sideshow Bob, I mean Brook Lopez, now that's a guy who has moves. Nice pick for the Nets. Maybe his brother can read a comic book with him, share a banana split with him, and then teach him how to rebound. D-Lee killed him on the boards, 14 astounding bounds in all for Lee. No announcers live, so there's a Clyde-ism just for my own sanity.
- Enough of the fun stuff. We lost, and here are the people responsible:
Q-Rich. I wouldn't draft this guy for an intramural college team at this point. Airballs another trey, fumbles away a rebound that he shouldn't have even tried to save, and generally was useless in limited minutes.
Larry Hughes. He played passably, until the final two minutes. Nice meltdown, bro. Stop taking contested jumpers, and at least try to run down Devin Harris before his breakaway lay-up puts the nail in the coffin, okay? Please, I beg you. I'll give you a printed copy of a blog post by Gilbert Arenas, even though it's ghost-written. In fact, just go to Washington, you're making me look bad for supporting that trade. Give me back Tim Thomas, you fugazy.
Vince Carter. Gets his 25 with a sick windmill flush to boot. I'm just including him because I want to point out that I have never seen a person complain so much about anything. Dude throws his hands in the air in disgust every time a foul is called or when his team doesn't get a bucket. Oh yeah, and that flop at the end to try and draw a foul on Gallo would have made Manu Ginobili proud. Well played with the crying on the floor and the injury timeout. You are a gentleman and a scholar, Vince Carter.
The devil hands guy in the crowd. Trust me on this one.
The Main Event - The Mystery of Gallo's Celebration
So the Knicks lose another game and in all likelihood crush our playoff dreams. Whatever, I'm used to it, and you guys probably are too. Tonight's important story was that of Gallo's new celebration. If you didn't catch it, after clutch shots Gallo puts his hand up to his forehead with all of his fingers pointing up (like a rooster). I have identified the man responsible for this phenomenon. He is pictured below:
Yes, it is true. Jared Jeffries is at the root of the rooster celebration. I first noticed this when Gallo returned to the bench after getting some minutes. Gallo high-fives everyone on the bench, all the way down to the end. Then Gallo goes to high-five JJ before pulling his hand back and throwing up the rooster right in his grill. Jeffries instantly throws it right back at Gallo. Every time Gallo threw up the rooster symbol in-game, Jeffries did it on the bench. In addition, they always stand next to each other and talk to each other during timeouts. I'm pretty sure this qualifies as a bromance.
Either way, we may have lost this game to Devin Harris and a bunch of fugazys. However, Gallinari has unveiled a symbol of greatness. I'm ready for the dawn of a new era, and I hope the rest of you cool cats at P&T are as well.
Cock-a-doodle-doo (and Jared Jeffries too), bitches.